We came across this little cream jug while cleaning out a closet this summer and I've finally got around to researching it. We are not sure which side of my family it came from but I've found it dates to around the 1930's or 40's.
Albert Edward Gray
started a factory in England that was at its height in the 1930's but continued producing pottery ware right up until the 60's. The faint green stamp underneath the
bright yellow maker's mark
with the clipper ship was quite common and indicates the jug itself was made by another company and then Gray Pottery did the hand painting as decoration. The design is like one I've found online called leaves and grapes but not exactly. With each jug being hand painted however, there would be variation I suppose.
The type of pottery is called copper lusterware and
this website
gives a helpful description of the way some of the unique copper-like design was created using a resist method.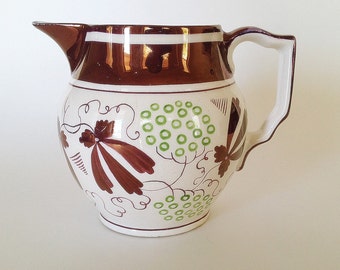 This one above from t
he Etsy website
is the closest I could find in decoration but the shape and handle are different.
This one
from picclick
is the same shape as ours but a slightly different design, without the green grapes part of the design.
It's a cute little piece that is less than 6 centimeters tall so its practical uses are limited. It has found a place on a shelf in my house however!