Following his not guilty verdict for manslaughter in November of 1887
as detailed in this blog post
, Joseph Cook Henry went about his life out of the newspapers for the next nine years.
He had earlier returned to his former home in Perth, Ontario to wed Mary Purdon on the 2nd of March in 1886. Joseph was 28 years old at the time of his marriage and Mary was 30. He had come to Manitoba to homestead at the age of 22 and may have finally felt ready to bring a bride to the west at that time. They had a daughter named Janet Barbara (known as Jennie) in August of 1887, and their lives would have been hard and full of dangers.
The Manitoba Free Press clipping from October 14, 1887
reported from the preliminary trial;
It appears that Joseph Henry's family had been forced for some nights to leave their own home on another section, and take refuge in the home of Mr. Henry, sr., being in constant dread of the Indians. The evening before the shooting the Indians had endeavored to break into the house of Joseph but could not. At the first opportunity the family left. After the shooting, Joseph visited the house and found that it had been ransacked. There were five witnesses examined and their evidence was corroborative of the above.
Joseph's father, John Henry Sr., had died in September of 1888 but his sons carried on farming and building up their farms. In the 1891 census, Joseph's family of three was living in the Rapid City subdistrict with 22 year old Duncan L. Purdon, maybe Mary's brother. As a homesteader, he would have searched out other sources of cash income to make up for crop failures and lack of markets for what he did produce. Joseph became the superintendent of local government well boring machine number 4, perhaps like the one pictured below. In mid August of 1896, fate found the 39 year old drilling a well on a farm belonging to David Jackson on 6-15-20, five miles straight east of present day Cardale on Road 355.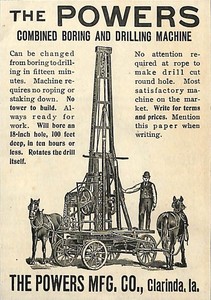 On the 17th of August in 1896, Joseph again makes the newspapers in this graphic account of his violent death.
Found on
Newspapers.com
This website
has gathered all the newspaper accounts of the day and says that Arthur Gerhold had come to Canada from England with the "Sailing Alone" program in June of 1893 at he age of 17 and worked on the Jackson farm for $135/year. Although some accounts of the time call him a
Bernardo boy
, this does not appear to be the case but the Sailing Alone program seems similar in nature - giving a new start in Canada to poor boys and girls from England. Arthur was said to have made a full confession of killing Joseph to the police constable who transported him from Rapid City to Brandon and did the same in a letter to his parents back in England. This letter was intercepted by the prison guards and although challenged, it was admitted as evidence against him at his trial.
Dear mother and father--Just a few lines to let you know of the trouble I am in now. Last Monday morning I had a quarrel with a man that has been at Mr. Jackson's boring for water in which I shot him. We had another last Saturday afternoon in which he was pretty near laying me out and he started again at me yesterday morning in which I settled him.
Do not be down-hearted to hear of this news. I am here waiting a trial, forty miles from Jackson, my late boss. I will let you know the verdict if you don't happen to hear it through the papers. It will be a case of manslaughter in which it depends upon the juries verdict whether I get off easy or not.
It is a bad thing to happen, but I could not help it. I was in a bad temper when it happened. Do not worry. I thought I had better let you know. I will write again if possible, so cheer up. With kind love to all and yourselves, good-bye. From your faraway son, (Arthur.)
The trial of Arthur Gerhold took place in front of a judge and jury in Brandon a few months later at the Fall Assizes.
Winnipeg Free Press - November 19, 1896

This afternoon Dr. Crookshank, of Rapid City, a practitioner of medicine of that place, was the first witness called, and he testified to having been called to view the body just after the murder. He said that he had examined the wound which caused Henry's death. ... The deceased was personally known to him and he was of the opinion that deceased would be a true friend, or if antagonized he could be, and would be, a bitter enemy. He was the coroner who sat on the inquest, which inquired into the death of the Indian that Henry had been arrested and acquitted on the charge of murdering.
The jury failed to agree on a verdict and a new one was called. (I presume their difficulty was whether this was a case of murder or manslaughter, not whether he was the one responsible.) The second jury found Gerhold guilty of manslaughter and the judge sentenced him to 20 years at Stony Mountain. He was released from prison in 1911 and moved to Massachusetts where Arthur Gerhold married and had a family.
Joseph was buried in the Henry family plot at the Rapid City Cemetery. His widow Mary and daughter Jennie were living in Brandon according to the 1901 census and in 1916, Mary was with Jennie and her husband George Abra in Neepawa. She later moved east with them where they were in Kitchener on the 1921 Canadian census. Mary died in Niagara Falls in 1942.
There is one more tragic chapter in this tale concerning Charles Henry, not
this one
but his cousin Charles. To be continued...